The ship Crew Dragon successfully docked to the International Space Station (ISS). The docking took place automatically, the broadcast was conducted by the American space agency NASA. After completing all the technical procedures, astronauts Bob Benken and Doug Hurley, who arrived on the ship, will transfer to the ISS. They will spend in orbit up to 110 days and return to Earth on the Crew Dragon.
The historic launch of the Falcon 9 rocket with the Crew Dragon ship took place on May 30 at 15.22 US time (22.22 Moscow time). This is the first ever manned mission launched by a private company – SpaceX billionaire Ilon Mask.
The launch of the rocket was normal. The first stage of the Falcon 9 successfully returned to Earth and landed on a floating platform in the Atlantic Ocean 10 minutes after launch. After the separation of the second stage, the ship with astronauts entered the orbit at the scheduled time.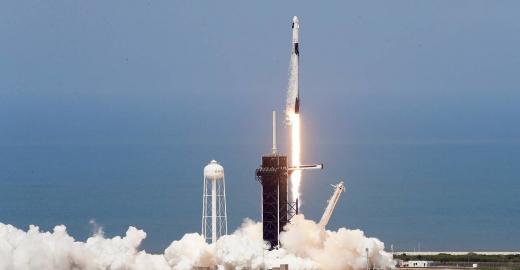 SpaceX launched Crew Dragon with astronauts to ISS
This is the first ever manned mission launched by a private company.
Launch Falcon 9 failed on the second attempt. The start was originally scheduled for May 27, but at the last moment was postponed due to bad weather.
Crew Dragon is a modification of the Dragon cargo ship that delivers cargo to the ISS. In early March, Crew Dragon flown to the International Space Station in automatic mode. The current mission is a big event for NASA, whose astronauts flew to the ISS on Russian spacecraft for almost ten years. The United States stopped manned flights in 2011, after curtailing the Space Shuttle program.
Roscosmos praised the successful launch of Crew Dragon with astronauts. "Now, not only Russians will fly to the ISS, but also Americans. So that's great! It is very important to have at least two possibilities to reach the station. After all, it's not enough … Everything happened in space, and you must have at least two transport systems capable of ensuring the presence of crews of different countries . "What happened should have happened a long time ago," said Ustimenko.